Invisalign®
Many people take advantage of modern cosmetic dentistry solutions to enhance the appearance of their smile. In some cases, dental crowns or veneers may not correct the problems you'd like to address. At The Tooth Affair, we feature orthodontic options including Invisalign, which offers many advantages: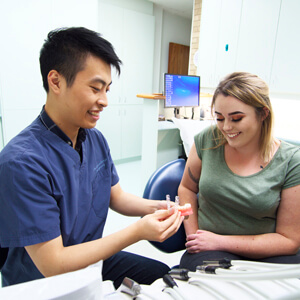 Suitable from eight years old upwards
Very discreet, almost unnoticeable for many patients
Comfortable aligners that are well-tolerated
Fewer dental visits
No brackets, wires or elastics involved
Precise treatment planning with 3D CT scanner, located in-house
Reliable treatment outcomes
Removable aligners for ease in eating or in social settings
How Invisalign Works
The first step is to have an evaluation to be certain that you're a candidate for Invisalign. If so, we'll move forward with taking images with our 3D CT scanner and impressions/moulds of your teeth are made. Once we've gathered the necessary information, it will be sent off to the Invisalign laboratory. There, they'll create a series of aligners to help you achieve your desired teeth position.
When your aligners have been completed, they'll be sent back to our practice. You'll come in to pick them up and be instructed about when to change them for new ones, as well as when we'd like to see you to check your progress.
A Five-Year Warranty
Invisalign has corrected more than five million smiles around the globe. They offer a five-year warranty on completed full treatments. This warranty allows any adjustments to be made if your teeth were to shift out of place after you've finished wearing your prescribed aligners.
Orthodontics for Your Individual Needs
We treat each patient as an individual, evaluating their particular situation and making our best recommendations to reach their goals. If Invisalign isn't suitable for you, we offer traditional and lingual braces. Lingual braces are placed on the inner side of teeth, making them virtually invisible. We'll be happy to discuss your case and what we believe is best for you.
Find out more about achieving the smile you want—contact our Albury team today! Convenient Saturday appointments are available, and we offer late opening hours.
---
Invisalign Albury, Wodonga NSW | 02 6023 2678