Full and Partial Dentures
Helping You Smile with Ease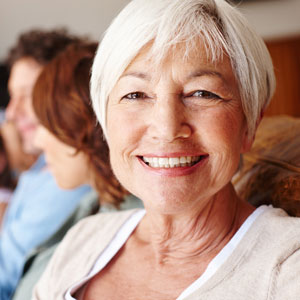 At The Tooth Affair, we also offer other forms of restorative dentistry, including full and partial dentures to assist with the replacement of missing teeth. Dentures are removable appliances which are custom-made in a lab using oral impressions to fit your individual mouth.
If you feel unconfident about your smile or have lost the ability to chew and bite normally due to missing teeth, then one of our denture options may be the perfect solution for you.
Full Dentures: Full dentures are a treatment option for patients who have either lost all of their teeth or had them removed. They can be placed on the upper teeth, lower teeth, or both and are held in place using a flesh-coloured acrylic base that fits over your gums.
Partial Dentures: Partial dentures can be likened to bridges, however they offer a removable solution to replacing missing teeth. A partial denture rests on a metal framework that attaches to your remaining natural teeth. In some cases, crowns are placed on some of your natural teeth and these then serve as anchors for the denture.
Things to Keep in Mind
Although modern dentures look like your natural teeth, they will never feel 100% like your natural teeth and therefore can take some time getting used to. When a patient receives their new dentures, it can take practice to eat and speak comfortably again, particularly as the restorations can feel loose or bulky until your cheeks and tongue become familiar with it. While dentures can successfully replace the appearance of missing teeth, they will need to be adjusted over time, especially due to daily wear and the changes to your mouth in size and shape as you age.
The Dental Implant Solution
If you're worried about any of the issues above, but are looking for a highly-effective, durable, and long-lasting solution to missing teeth, then our professional dentists are also very experienced in dental implantology. Implants are the most natural-looking and comfortable restorative option, as they allow patients to eat, drink, chew, and talk without discomfort. The procedure has a very high success rate, with the implant itself being able to last a lifetime.
Want to Learn More?
If you're interested in finding out more about our full or partial dentures, or wish to discuss the option of dental implants instead, please contact the friendly team at The Tooth Affair today!
CONTACT US
* Any surgical or invasive procedure carries risks. Before proceeding, you should seek a second opinion from an appropriately qualified health practitioner such as a Specialist Oral Surgeon.
---
Dentures Albury & Wodonga NSW | 02 6023 2678