Dental Implants
Restore Your Missing Teeth for a Beautiful Smile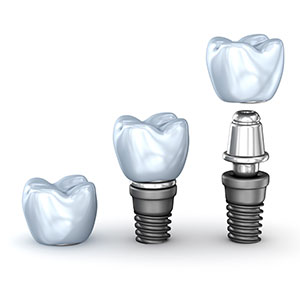 Since their invention, dental implants have provided durable, safe, and lifetime-lasting solutions to millions of patients – whether they're missing one tooth or multiple teeth.
If you're fed-up with a smile that makes you feel unconfident or a mouth that just doesn't function as effectively when talking and chewing, then dental implants may be the perfect solution for you.
What Are Dental Implants?
Dental implants can be likened to an artificial tooth root, resembling a titanium screw in appearance. This 'root' is then securely attached to the jaw bone, ready for a fixed restoration to act as the prosthetic tooth or teeth (such as a crown, denture, or bridge).
Dental implants are the most natural-looking and feeling restorative dentistry option, helping patients to regain function of their mouth again, along with a beautiful smile that no longer contains missing teeth.
The Dental Implant Process
The dental implant process can occur in as little as three stages and it is a relatively straight-forward procedure. During the initial stage, the implant is placed into the jaw, before a waiting period of approximately 3-4 months occurs to allow for the fusion of bone and gum tissue (osseointegration). Once this occurs, our dentist gently uncovers the screw, before the patient's permanent restoration is fixed in place.
Your Best Smile Starts Here
Are you interested in regaining a more beautiful, confident and functional smile? Schedule a consultation with The Tooth Affair today to see how dental implants can help you!
CONTACT US
* Any surgical or invasive procedure carries risks. Before proceeding, you should seek a second opinion from an appropriately qualified health practitioner such as a Specialist Oral Surgeon.
---
Dental Implants Albury & Wodonga NSW | 02 6023 2678