Checkup and Cleans
Keep Your Teeth and Gums Healthy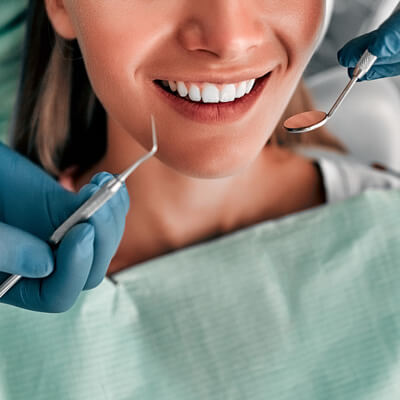 At The Tooth Affair, we're committed to helping you maintain a healthy smile. Regular checkups and cleans are the foundation of good oral health, and we're here to make the experience as comfortable and efficient as possible.
What to Expect
During your checkup, our experienced dental team will carefully examine your teeth and gums to ensure they are healthy. We use the latest technology to detect any issues that may be developing, even if they aren't yet visible to the naked eye.
If we find any issues, we'll discuss them with you and recommend the best course of treatment. Our goal is always to address any problems before they become more serious, which can save you both time and money in the long run.
Once we've checked your teeth and gums and addressed any issues, we'll move on to the cleaning portion of your visit. This typically involves a scale and clean, where we'll use special tools to remove plaque and tartar buildup from your teeth. We may also recommend a fluoride treatment to help strengthen your teeth and prevent decay. This treatment is quick and painless, and can help to protect your teeth for months to come.
A checkup and clean typically takes around 45 minutes, although this can vary depending on your individual needs. We'll work with you to ensure your visit is as efficient and effective as possible.
Comfortable Care
We want you to feel comfortable and confident in your oral health, so we encourage you to bring up any concerns you may have. Our team is always happy to answer your questions and provide guidance on how to maintain a healthy smile.
If needed, we may take X-rays during your checkup. This helps us to see what's happening beneath the surface of your teeth and gums and can alert us to any potential issues that need to be addressed.
Schedule Your Visit Today
Don't wait until you're experiencing dental pain or discomfort to schedule a checkup and clean. Regular visits are essential for maintaining good oral health and preventing serious issues from developing. We'd love to help keep your oral health on track-call today to book your visit!
---
Checkup and Cleans Albury, Wodonga NSW | 02 6023 2678