Children's Dentistry
Come and See Our Oral Health Therapist Today!
Patients of all ages are welcome at The Tooth Affair, as we don't just have immense experience in treating adult dental issues, but children's dentistry too.
A Lifetime of Optimal Oral Health Starts Here
We believe that prevention is always better than cure, which is why we place utmost importance in creating healthy teeth and gums from the very beginning of a patient's dental journey. We have a large focus on preventative measures such as check-ups and hygiene appointments, as well as providing treatments such as fluoride and sealants for added protection. Your child's consultation will also allow us to assess their airways and tonsils, where we can provide early intervention or advice if needed.
When Should Your Child Have Their First Check-Up?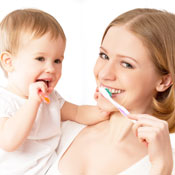 Regular check-ups to maintain healthy teeth and gums are recommended from the age of two and a half years. We can pick up and discuss any concerns about speech, tongue posture, thumb-sucking, and ensure that tooth brushing is carried out effectively. Anomalies in tooth eruption can be identified and if needed, corrected or watched.
Regular check-ups at this young age also allow us to 'de-sensitise' your child to our dental environment, team, and equipment, helping to alleviate any feelings of anxiety or stress.
Modern Technology for Ultimate Comfort
At The Tooth Affair, we pride ourselves on investing in the most advanced dental equipment and technology to provide our patients with procedures that are both comfortable and highly-successful.
We use a new non-invasive laser caries detector that can "see" through the enamel grooves of children's (and adult) molars and tell more accurately than x-rays if decay is present. We also use the latest advanced air abrasion techniques to painlessly remove decay and restore teeth with tooth-coloured fillings. This is called "Minimal Intervention Dentistry" and allows early problems to be solved without excessive cutting and loss of tooth structure by not using the conventional dental drill.
Contact Us Today!
To schedule a consultation for your son or daughter, please contact our friendly and professional team today. Your child may also be eligible for the Child Dental Benefit Schedule. We look forward to helping your child achieve and maintain lifelong oral health and wellbeing!
CONTACT US
---
Children's Dentist Albury & Wodonga NSW | 02 6023 2678